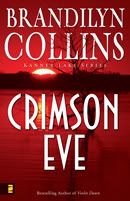 Last Friday I received the comp design for book #3 in the Kanner
Lake series--Crimson Eve. I love it. And I certainly think it's bright enough to make a browser pick up the book.
(The web version isn't all that clear. To see a better version, click here.)
There's a lot of symbolism in this cover. The artist did a fabulous job of pulling issues out of the story and putting them in the design. The glow beneath the setting sun, the disturbed water. Most of all, the lone, bare tree in the midst of all the glowing red. And in the background--flourishing trees on the hill, with leaves.

My main character in this one is Carla Radling, the realtor. She's one of the Java Joint crew in Violet Dawn, and you'll see her again as a supporting character in Coral Moon. (Book #2, releasing in late March.) But little is said of Carla's past in those two books. Who is she, really? What's in her past that could force her into a situation like the lone tree, stripped of everything, on the cover? And what happens when that past catches up with the present?...

You'll also note the new cool Zondervan logo--the blocky-looking Z. As my other books go into reprintings, the new logo will replace the old on their covers.

I recently turned in Crimson Eve. This book releases in September 2007.